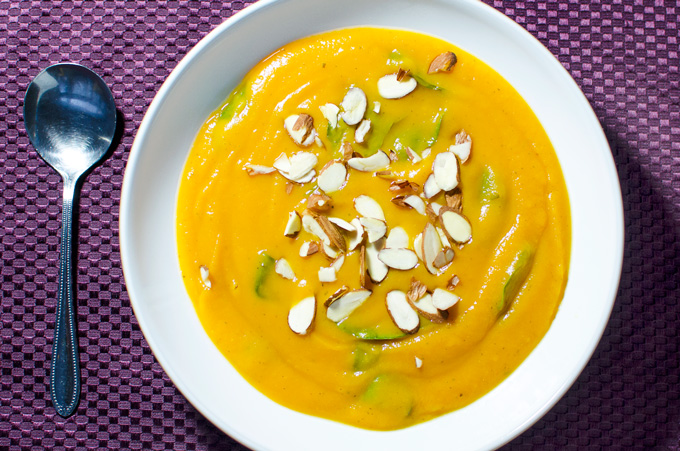 I like to keep baked sweet potatoes in the fridge for quick meals, but when I was shooting the photo for Monday's post on Sweet Potatoes vs. Yams I had to cut the sweet potatoes to show the color of the flesh. This ruled out baking so I decided to make a slow cooker sweet potato soup.
I'm quite pleased with the results. My husband, who actively avoids eating sweet potatoes, was even willing to give it a try. He declared the soup delicious and persuaded our daughter – who also claims to be a sweet potato hater – to have some. She grudgingly agreed it was tasty. So I chalk this one up as a winner!
Slow Cooker Sweet Potato Soup
Cook Time
5
hours
20
minutes
Total Time
5
hours
35
minutes
Ingredients
5

cups

low sodium vegetable broth

3

large sweet potatoes

peeled and chopped

1

cup

onion

chopped

2

stalks

celery

chopped

2

cloves

garlic

crushed

1

cup

plant milk

(I use rice milk)

1

tsp.

dried tarragon

1

tsp.

McCormick Pinch Perfect Salt Free Seasoning

2

cups

baby spinach

6-8

Tbsp.

sliced almonds

sea salt and ground black pepper

to taste
Instructions
Add broth, sweet potatoes, onion, celery, and garlic to a 4-quart slow cooker.

Cook on low for 8 hours or high for 5 hours (or until potatoes are soft). *

Turn off slow cooker and add plant milk, tarragon and Pinch Perfect Seasoning and blend 1-2 minutes with an immersion blender until soup is smooth. **

Stir in baby spinach, cover and let sit for 20 minutes until spinach is soft.

Ladle into soup bowls.

Sprinkle each bowl with 1 tbs sliced almonds, sea salt and ground black pepper to taste.
Recipe Notes
*I make this soup in my 25 year-old Crock Pot. A newer slow cooker may require less cooking time.
**If you do not have an immersion blender, carefully ladle 1/3 of the soup into a blender and mix until smooth. Pour mixture into a warm holding pot and repeat until all of the soup is blended, then return mixture to the slow cooker.
 Note: I do not include nutrition information with my recipes because I subscribe to the theories presented in the book Whole and believe we should focus on eating a variety of whole foods instead of counting calories or keeping track of individual nutrients.