This slow cooker sweet potato soup recipe features a simple combination of wholesome plant-based ingredients. It's vegan, gluten free, smooth and delicious.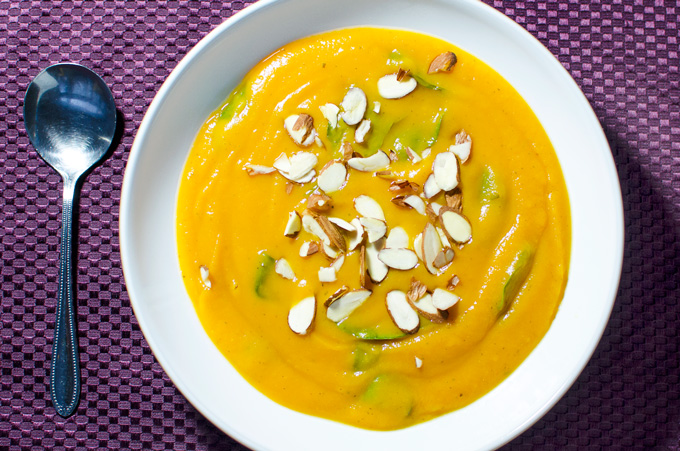 Sweet Potatoes
Did you know there are over 400 varieties of sweet potatoes? As I explain in Sweet Potatoes vs. Yams, they range in color and firmness.
The potatoes we often call yams in the U.S. are actually soft, deep orange sweet potatoes.
Soft sweet potatoes become tender and moist when cooked. I love to keep baked sweet potatoes in the fridge for quick meals, but they also make great soup.
The Convenience of Slow Cooking
By the end of the day, I often don't feel like cooking. Tossing ingredients in a slow cooker in the morning is a great coping mechanism for lazy cooks like me.
I don't always follow a recipe. More often than not, I experiment with what I have on hand. Then, if I create a winner, I write it down.
I encourage you to do the same!
Using an Instant Pot as a Slow Cooker
When I first created this recipe, I was using my twenty-five-year-old Crock-Pot. I sent that ancient contraption off to college with my son.
Now, unless I'm making an extra-large batch of soup, I use my Instant Pot as a slow cooker. It works great!
If you are not familiar with this all-in-one appliance, check it out. It has replaced my old Crock-Pot and my rice cooker! And, it pressure-cooks beans and grains beautifully!
I bought the Instant Pot Tempered Glass Lid so I can see ingredients when I use the slow cook setting.
Pressure Cooker Option
I developed this recipe for my slow cooker. But if I want to have it for lunch, or forget to set it up in the morning, I cook it in my Instant Pot on the Soup pressure cooker setting.
Refer to the Recipe Notes below for more information.
Save A Step with an Immersion Blender
An immersion blender is another handy tool. If you don't have one, I encourage you to get one. I use mine all the time.
You can read why it's worth the storage space in this article. But the short answer is, ladling hot chunky liquids into a blender can be tricky.
I appreciate being able to puree soup in its cooking pot.
Slow Cooker Sweet Potato Soup
I'm quite pleased with the results of this experiment.
My husband, who actively avoids eating sweet potatoes, was even willing to give the recipe a try. He declared this slow cooker sweet potato soup delicious.
Then he persuaded our daughter – who also claims to be a sweet potato hater – to have some. She grudgingly agreed it was tasty. So, the recipe made the winning cut!
Slow Cooker Sweet Potato Soup
Ingredients
5

cups

low sodium vegetable broth

3

large sweet potatoes

peeled and chopped

1

cup

onion

chopped

2

stalks

celery

chopped

2

cloves

garlic

crushed

1

cup

plant milk

(I use cashew or coconut milk)

1

tsp.

dried tarragon

1

tsp.

McCormick Pinch Perfect Salt Free Seasoning

2

cups

baby spinach

6-8

Tbsp.

sliced almonds

sea salt and ground black pepper

to taste
Instructions
Add broth, sweet potatoes, onion, celery, and garlic to a 4-quart slow cooker.

Cook on low for 6-8 hours or high for 3-5 hours (or until potatoes are soft).

Turn off slow cooker and add plant milk, tarragon, and Pinch Perfect Seasoning and blend 1-2 minutes with an immersion blender until soup is smooth. *

Stir in baby spinach, cover and let sit for 20 minutes until spinach is soft.

Ladle into soup bowls.

Sprinkle each bowl with 1 tbs sliced almonds, sea salt and ground black pepper to taste.
Notes
*If you do not have an immersion blender, carefully ladle ⅓ of the soup into a blender and mix until smooth. Pour mixture into a warm holding pot and repeat until all of the soup is blended, then return mixture to the slow cooker.
**If you are short on time, add the

broth, sweet potatoes, onion, celery, and garlic to an Instant Pot and cook on the Soup pressure cooker setting for 20 minutes. Allow the pressure to release naturally (about 30 minutes) - then follow steps 3-6 above.
Note: I do not include nutrition information with my recipes because I subscribe to the theories presented in the book Whole and believe we should focus on eating a variety of whole foods instead of counting calories or keeping track of individual nutrients. Also, this page contains affiliate links. I earn a commision if you use the links. I only recommend items/brands I use and trust.