If you have a small kitchen you know storage space can be a challenge. You have to reserve premium counter and cabinet real estate for items you use on a regular basis. Other appliances are relegated to hard to reach nooks and crannies – or distant closets and storage areas.
I'm well versed in prioritizing kitchen gadgets in terms of space worthiness. When we developed the habit of using prepackaged microwave popcorn I sold our air popcorn popper in a yard sale. I ended up regretting that decision and had to buy another one, but hey, you live and learn. After we transitioned to a predominantly plant-based diet I convinced my husband we had little use for our George Foreman rotisserie; it is now housed in the unlikely location of a downstairs bathroom closet. When my daughter was diagnosed with a wheat allergy my beloved bread machine lost it's counter-top place of honor and now resides with the rotisserie.
So I thought long and hard before I added an immersion blender (also known as a hand blender or stick blender) to our mix of appliances. I had a food processor and a Vitamix high-speed blender – why did I need an immersion blender?
Need vs. Want
Like I tell my children, there is a difference between want and need. Just because you want something doesn't mean you need it. Did I need an immersion blender? No. Did I want one? Well, after slopping hot soup on myself one too many times when transferring between pot and Vitamix I decided, yes, yes I did want an immersion blender – it would be the answer to my soup-pureeing woes.
I dutifully conducted some research, which entailed hopping onto Amazon.com and searching for a model that wasn't too expensive and received good reviews. While I could appreciate the convenience of a cordless blender, I opted for a corded model because, strangely enough, my experience with other cordless devices – such as vacuums and electric shavers – has been less than satisfactory and I feared it would be the same with a blender. There's nothing worse that expecting to go full speed and have a device peter out because it needs to be charged…
Cuisinart Immersion Blender
I ordered a Cuisinart CSB-76W SmartStick 200-Watt Immersion Hand Blender. True to many on-line shopping experiences, I was a little surprised when I opened the package. When assembled, the blender was larger than I had expected and I started to second-guess my decision to add it to my kitchen. I pondered where to store the device – but soon discovered the two parts were slender enough to fit in a lone drawer with a little extra space. I found a home for it's plastic beaker in a slightly less accessible cabinet.
The ability to detach the stainless steel blending shaft is not only convenient for storing, I quickly learned to appreciate popping the shaft off the motor to add it to the dishwasher. I do love fast and easy cleanup.
Immersion Blender Reviews
I'm perfectly happy with my Cuisinart immersion blender and would certainly recommend it. I see similar Cuisinart models are recommended on Best Reviews.com and Consumersearch.com.
However, I see the Breville Control Grip Immersion Blender also receives high praise. I absolutely love my Breville toaster oven – so I'm a fan of the brand. TheSweetHome.com offers a thorough review of the Breville blender as well as some other models, including Cuisinart. Depending on your budget, you may want to consider the pricier Breville.
Ways to Use an Immersion Blender
Since I have a Vitamix high-speed blender and a food processor I tend to use my immersion blender for the following three tasks:
1. Pureeing Soups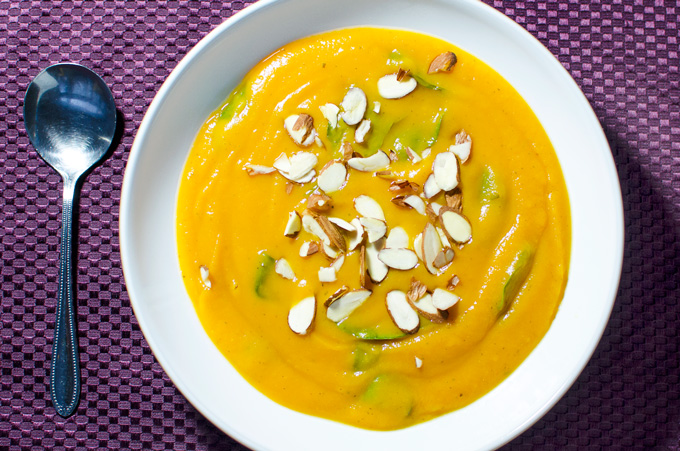 The ability to puree soup right in the cooking pot was the main reason I wanted an immersion blender. I haven't been disappointed with the results. You can easily blend soup as much or as little as desired. Add a few bursts to thicken chunky soup or blend continuously for a smooth puree like the Slow Cooker Sweet Potato Soup pictured above. Can you get the same results with a high-speed blender? Yes, but expect a few extra dirty dishes and potential burns if you are clumsy like me.
2. Blending Sauces and Dressings
Can you blend sauces and dressings in a high-speed blender like the Vitamix? Yes, but there are times when I would equate it with using a sledgehammer to drive in a finishing nail. When I'm preparing simple dressings like the recipes I share with my Perfect Green and Cranberry Walnut Wild Rice salads I find the immersion blender is the perfect tool for the task. And, if I'm feeling especially lazy I can store the leftover dressing right in the blender's plastic beaker in the fridge!
3. Mashing Potatoes and More
An immersion blender can make short work of mashed potatoes. I find it especially helpful when you want extra smooth potatoes to top off shepherd's pie. Just be sure you don't overdo it or the potatoes will become "gummy." I also use the immersion blender for other kinds of mashing – like the lentil taco "meat" pictured above from my Lentil Taco Salad recipe.
Other Uses
Folks around the web offer a number of creative ways to use immersion blenders. CheatSheet.com shares 7 possibilities, including Banana Ice Cream.
Huffington Post features an article on The Immersion Blender's Many Uses In The Kitchen – including chopping nuts and making pesto!
Final Thoughts
Is an immersion blender worth precious kitchen storage space? I say yes! Furthermore, if you have a particularly small kitchen, you may want to go with a hand-held immersion blender INSTEAD of a large high-speed blender or food processor. Or you could go with a hybrid – like the Breville All In One Processing Station - that combines the best of blending and food processing in an all-in-one storage saving devise.
Note: This page contains affiliate links. Veggie Primer earns a commission if you use the links. We only recommend items/brands we use and trust.